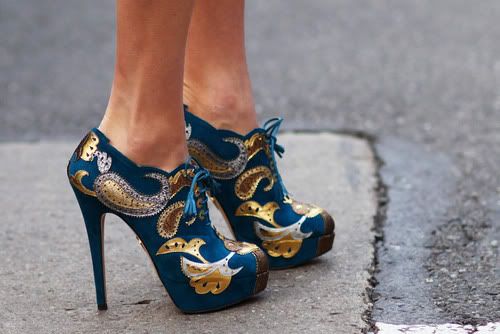 In Her Shoes is a weekly bookish meme hosted by Vanya at YA Story Teller. To participate, simply put yourself in the shoes of a heroine you've recently read about, and then talk about what you would do in her place, or what you've learned from her.
Charlotte Branwell from Clockwork Prince



Charlotte Branwell
is a character from the series The Infernal Devices by Cassandra Clare. I originally read about her in Clockwork Angel, the 1st installment in The Infernal Devices and loved her character from the start. Charlotte is a shadowhunter in Victorian London. Shadowhunters
are humans who hunt demons and have angel blood in their veins. She is also the head of the shadowhunter Institute in London.
Personality wise, Charlotte is a very strong character and her main challenge throughout the Infernal Devices books - especially in Clockwork Prince - is that her authority as the head of the London Institute of shadowhunters is constantly being challenged and called into question because she is a woman and young (in her early 20s) in the Victorian Era.
I have to say that I really like how Charlotte handles herself. She has tremendous responsibility as the head of the London Institute and has a lot of people in her charge. I don't think that I would change a thing about her. She is a fighter, she is intelligent, and she likes to take action. Instead of succumbing to pressure and crumbling under the prejudices bestowed upon her by elder council members and other characters in the books because of her age, gender, and the era she lives in - she stays strong and always rises to the occasion, especially in battle. She is also very good hearted and very thoughtful. Definitely one of my favorite characters in the series and a great heroine.