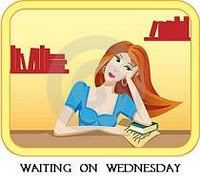 "Waiting On" Wednesday is a weekly event hosted by
Breaking the Spine
, that spotlights upcoming releases that we're eagerly anticipating. Visit
Breaking The Spine
to see more entries!
This week's pre-publication "can't-wait-to-read" selection is:
Release Date: March 2013 by Simon Pulse
Format: Hardcover

Goodreads Summary:
Seventeen-year-old Vane Weston is the only survivor of the category five tornado that killed his parents. Every night since the storm, a beautiful, dark-haired girl has swept through his dreams. She's the only clue to his past, and he clings to the hope that she's real.

Audra is real, but she's also a sylph. An air elemental. She walks on the wind, can translate its alluring songs, and can even twist it into a weapon. She's also a guardian--Vane's guardian--and has sworn an oath to protect him at all costs. Even if it means sacrificing her own life.

When a hasty mistake reveals their location to the enemy who murdered both of their families, Audra must help Vane remember who he is. He has a power to claim--the secret language of the West Wind, which only he can understand. But unlocking his heritage will also unlock a memory Audra wishes could be erased. And as the storm bears down on them she starts to realize the greatest danger might not be the warriors coming to destroy them, but the forbidden romance that's grown between them.

Set amongst the desert airstreams of Coachella Valley in California, and alive with wonderful wind-swept prose, LET THE SKY FALL is about two teenagers broken by their pasts, divided by their futures, and bound by love.








Reasons I want to read & own this book:
1. The title.
Let the Sky Fall
. It's like the characters of this book are already saying, "Fine. Bring on whatever you have to throw at us, because we are ready to face it" - well, that's my interpretation of it anyway :D
2. The
cover
. It's kinda whimsical/other wordly in the sense that both the main characters seem to be soaring high in the clouds in what seems to be a circular fashion with a orange sky backdrop. I just love it.

3. The genre. Urban Fantasy. I just love the idea of having characters that can wield the element of air and can talk to the wind. I look forward to learning more about the sylph lore which is something I've never heard about before. Should be really interesting!






What do you guys think? :)