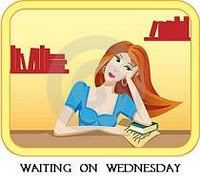 "Waiting On" Wednesday is a weekly event hosted by
Breaking the Spine
, that spotlights upcoming releases that we're eagerly anticipating. Visit
Breaking The Spine
to see more entries!
This week's pre-publication "can't-wait-to-read" selection is:
Release Date: April 16th 2013 by HarperTeen
Format:
Hardcover
Goodreads Summary:
There are no men in Claysoot. There are boys—but every one of them vanishes at midnight on his eighteenth birthday. The ground shakes, the wind howls, a blinding light descends...and he's gone.

They call it the Heist.

Gray Weathersby's eighteenth birthday is mere months away, and he's prepared to meet his fate–until he finds a strange note from his mother and starts to question everything he's been raised to accept: the Council leaders and their obvious secrets. The Heist itself. And what lies beyond the Wall that surrounds Claysoot–a structure that no one can cross and survive.

Climbing the Wall is suicide, but what comes after the Heist could be worse. Should he sit back and wait to be taken–or risk everything on the hope of the other side?
Reasons I want to read & own this book:
1. The cover. I just love it. There is this contrast of orange hues that maybe is an allusion to pollution or decay and then there is the blue tones which might represent the city that is surrounded by a wall, life itself maybe? Either way, I think that it's striking.
2. The genre. I love Dystopian films and I am growing to love dystopic novels as well. The idea that the citizens in this city seem to live within the confines of a wall reminds me of the movie Aeon Flux with Charlize Theron where people are told by their government that they cannot go beyond the walls of their city because it is dangerous out there and people never quite now w/certainty what is on the other side of the wall which leads to intrigue. And that intrigue seems to be happening here as well.
What do you guys think? :)