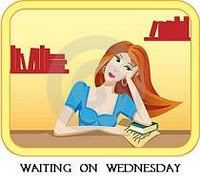 "Waiting On" Wednesday is a weekly event hosted by
Breaking the Spine
, that spotlights upcoming releases that we're eagerly anticipating. Visit
Breaking The Spine
to see more entries!
This week's pre-publication "can't-wait-to-read" selection is:
Release Date: May 7th 2013 by Simon & Schuster Books For Young Readers
Seventeen-year-old Meg Fellowes is a wry, resourceful thief forced to join an elite group of female spies in Queen Elizabeth's Court. There she must solve a murder, save the Crown, and resist the one thing that will become her greatest freedom–and her deadliest peril.

For Meg and her fellow spies are not alone in their pursuit of the murderer who stalks Windsor Castle.

A young, mysterious Spanish courtier, Count Rafe de Martine, appears at every turn in the dark and scandal-filled corridors of the Queen's summer palace. And though secrets and danger are Meg's stock-in-trade, she's never bargained on falling in love…



Reasons I want to read & own this book:
1. The genre. I am a huge fan of YA historical fiction and this book sounds like it's gonna be amazing. A character who is a thief and later has to become a spy in Queen Elizabeth's court --> I'm in!
2. The title. Maid of Secrets. So amazingly clever. Oh em gee. Maid of Secrets as in, the main character is a girl, a maid (which in historical times meant she was an unmarried girl) who is made of secrets since she is a thief turned spy in the Queen's court. I bet she's made of secrets all right with that background :O
Ohhh, I just can't with the awesomeness. So much intrigue already. I love it!
Btw -> I would love to thank the ever so awesome Lauren @ The Headless Owl who featured this book recently on one of her Waiting on Wednesday posts because it just looks like a really cool book and I'm excited that I found out about it.
What do you guys think? :)