I'd love to welcome you all to read my interview with author Dave Ferraro as part of the blog tour for the release of his new YA paranormal fantasy Dark Genesis.


Thank you, Dave, for taking the time to answer our questions here at Dream Reads.
Here's the synopsis/book summary for Dark Genesis:
"Alyssa opened her eyes to darkness. And in the first flash of light provided by a gathering storm, she could make out a ring of bodies surrounding her.
With no memory of who she is, Alyssa stumbles into a dark world populated by witches. The witches are powerful, and demonstrate frightening powers, but even more terrifying are the monsters who rule over the land. Vampires, werewolves and other awful creatures of the night have taken over, forcing the witches behind stone walls, afraid to venture outdoors. But Alyssa finds that as she kills certain monsters, memories return to her, memories of a life on Earth, and the boy she left behind.
The quest to collect her memories and piece together the puzzle of what has happened to her is a daunting one, with betrayals and sacrifices every step of the way. But Alyssa is determined to fight for a world that is not her own, destroying powerful monsters along the way, so that she can return home to the boy she is coming to love through the memories she recollects."
And now for some Q&A/interview awesomeness with Dave Ferraro:
1. Who or what inspired you to become a writer?

I read hundreds of young adult books growing up, and sometimes, before reading a book, I would look at the cover and read the synopsis, and sort of imagine what the book would be like. Sometimes my ideas were better, so I decided to create my own stories. Now I just have so many ideas for books that I can hardly hold the flood gates back.
2. What do you love the most about writing young adult novels?
I really like that young adult books take place during the formulative years of a character's life. It's that point where characters are learning about who they are, and what they want to do. When people are older, they're set in their ways, for the most part. As teenagers, they are choosing what kind of a person they are going to become, and that's really exciting.
3. Do you have a favorite young adult genre?
Growing up, "teen thrillers" pretty much made up the entire teen category (they were basically slasher books), so I like that young adult books have grown so much over the years that they're not only taken seriously and widely read, but that they can support a really diverse spectrum of genres. My favorite is probably Teen Fantasy. I really like dystopian novels, but even more than that, I think I like political fantasies with great world-building, like Elizabeth C. Bunce's "Star Crossed" books.
4. Do you have any writers or books that inspire your work?
I would say that growing up on their books, and just loving the stories they told, Christopher Pike and L.J. Smith were very influential on my writing.
5. What has been the biggest lesson that you have learned as a self-published/indie author?
There are definitely good things about being indie, and bad things. I love the freedom that I have, but just getting the word out about my books is really time-consuming and difficult. It's frustrating at times because I'd rather be writing than being my own publicist, but people wouldn't know about my books if I hadn't put the effort into getting it into their hands.
6. What advice would you like to give to aspiring writers?
Keep writing. Even if you throw out what you're writing later, getting those words out will help your craft later. I also really think that reading classics helps you to become a better writer. You kind of absorb good writing through osmosis.
7. You often hear that a lot of authors have writing soundtracks for each of their books. Is their any music that inspired the writing of Dark Genesis?
Definitely. More than anything, music is a big influence on my writing. I listened to a lot of Lana Del Rey while writing Dark Genesis, and songs like "Crows + Locusts" by Brooke Fraser, and "Billy the Kid" by Dia Frampton were on repeat quite a bit.
8. Which reading format do you prefer: Paperbacks, Hardcovers or E-books?
E-books. I still buy paperbacks, and even the occasional hardcover, but I find that I do a lot of reading in bed, and I often don't read the books I have that aren't on my e-reader just because they're not convenient with someone sleeping next to me who wants the light off.
9. How was the book cover for Dark Genesis conceptualized?
I scoured websites that offer to license photographs for a fee, for the perfect image. I didn't really have anything particular in mind - I just like really pretty images, and this one caught my eye. It seemed magical, which was appropriate for a book full of magic.
10. Do you have a motto that you like to live by?
The golden rule! Treat others how you would like to be treated.
11. Are you reading anything at the moment?
I'm always reading several things. I just finished "Boundless" by Cynthia Hand, the final book in her "Unearthly" series about angels. It was a really satisfying conclusion. I'm also in the process of reading all of the Oz books by L. Frank Baum. I get an Oz book from my boyfriend every time my birthday and Christmas roll around, in the original packaging. I'm reading "The Emerald City of Oz" now.
12. Which do you prefer reading: a series or a stand alone novel?
I wish there were more stand-alone books out there, because I feel like I'm reading so many sequels all the time! But if I really like a book, I hope that there's another chapter to the story. Plus there's something to be said for watching a character develop over a long series, so I think I prefer that.
13. Favorite movie based on a book?
I love Hayao Miyazaki's films, so off the top of my head, I would say "Howl's Moving Castle," which is my favorite movie he directed, based on the book by Diana Wynne Jones (which I never read).
14. What is your favorite type of character to write: the hero or the villain, and why?
I usually really like writing the hero, because you get to see them develop and you sort of test their mettle with the challenges you have them face. But in Dark Genesis, I had a hell of a time writing the villains, especially when it came to The Ice Queen. She's just so deliciously evil.
15. Favorite quote from a book?
"I always deserve the best treatment because I never put up with any other." From Jane Austen's "Emma."
Dark Genesis is available for purchase at:
And now for some awesome info on the Dark Genesis giveaway:
No memories.

A foreign world.

One epic adventure.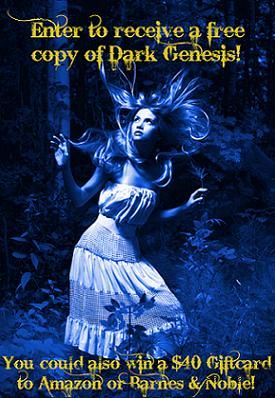 Dark Genesis is a new YA paranormal fantasy from the creator of the Hunters of the Dark series.

You can get your copy of Dark Genesis now for FREE by filling out the Rafflecopter below. Everyone who enters also has a chance to win a $40 gift card to Amazon or Barnes & Noble – it's your choice!! This is an international contest and everyone who enters can choose their e-format of choice to receive their copy of Dark Genesis for free from Smashwords! And did I mention the $40 gift card?!
One lucky entrant will also win a $40 gift card to Amazon or Barnes & Noble (their choice), which will be selected at random by the Rafflecopter.


This giveaway runs from now until Monday, March 18th. Please remember to enter the website or person who referred you to this giveaway in the Rafflecopter form, and check out the websites participating the blog tour, as you will be seeing interviews, various excerpts and more!