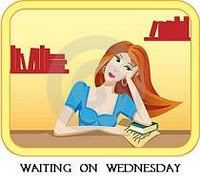 "Waiting On" Wednesday is a weekly event hosted by
Breaking the Spine
, that spotlights upcoming releases that we're eagerly anticipating. Visit
Breaking The Spine
to see more entries!
This week's pre-publication "can't-wait-to-read" selection is:
Release Date: July 10th 2012 by Simon Pulse
Format: Hardcover
Goodreads Summary:
In this humorous love story from the author of Two-Way Street, an unlikely romance is the best sort of surprise—but the wrong secret can ruin everything. Kelsey's not going to let one mistake ruin her life. Sure, she got kicked out of prep school and all her old friends are shutting her out. But Kelsey's focused on her future, and she's determined to get back on track at Concordia High.

Isaac's been kicked out of more schools than he can count. Since his father's a state senator, Isaac's life is under constant scrutiny—but Concordia High's his last stop before boarding school, so Isaac's hoping to fly under the radar and try to stay put for a change.

When Kelsey and Isaac meet, it's anything but love at first sight. She thinks he's an entitled brat, and he thinks she's a stuck-up snob. So it surprises them both when they start to fall for each other. Kelsey's happy for the first time in months, and Isaac's never felt this way about anyone before...But nothing's ever completely perfect. Everyone has secrets, and Isaac and Kelsey are no exceptions. These two may have fallen hard, but there's one thing that can ruin it all: the truth.
Reasons I want to read & own this book:
1.
Unlikely romance? I'm in! There is just something about unlikely romances that I love. The idea of learning to love someone who you thought you could never like is always fascinating to me. How is that two characters who kinda hate each other, learn to see each other in a new light? How do they break down the barriers of their preconceived notions? I know that I want to know. And that dynamic always reminds me of Darcy & Lizzie's relationship in Jane Austen's Pride and Prejudice. 'Nuff said
2. Contemporary Young Adult fiction w/ a romance? hells yea. After reading and loving Stephanie Perkin's Anna and the French Kiss & Lola and the Boy Next Door, I have been wanting to widen my horizons and venture out into the YA contemporary world and I've heard great things about Lauren Barnholdt's writing so I'm excited to read this book.
3. The title. The thing about the truth. With that alone, I know that the truth won't be easy things for the characters to handle. And I'm already wondering, what is this truth that the characters seem to be hiding? O_o
4. The cover - so pretty. He seems to be whispering a secret in her ear or close to it and it seems like she doesn't want to hear it or is avoiding it or afraid of it!! Or maybe I'm just reading too much into it. Regardless, I just kinda like it.