Hey guys.
So, lately there have been a lot of cover reveals for either new books, upcoming releases or re-releases and I wanted to share with you, my readers, my favorite two covers that I have seen over the last few weeks.
Cover #1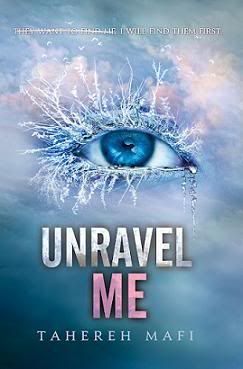 Release Date: February 5th 2013 by HarperCollins
Format: Hardcover
Isn't this cover just stunning? Cover art at it's best, in my opinion. So Unravel Me is the second installment in the Shatter Me series. Shatter Me was an incredibly amazing and poetic dystopian novel and I can't wait to read book 2 in this series.
Cover #2
Release Date: February 12th 2013 by Razorbill
Format: Hardcover
I cannot wait for this book. I am a huge fan of the Bloodlines series and I'm constantly amazed at how talented Richelle Mead is when it comes creating book series that are so unique even though they may take place in the same world as her previous books. I say this since the Bloodline series is a spin off series of Vampire Academy. I love the main characters in Bloodlines (Sydney and Adrian) and can't wait to see how they conquer more challenges in The Indigo Spell. Speaking of, I just love the cover for The Indigo Spell. The color, with the flowers around the title, everything looks great, though I am intrigued by the new guy on the cover (one on the left) since Adrian is on the right. I wonder who he may be? February can't come soon enough!
What do you guys think? Are there any book covers that you are gushing about? And if so, which ones are they? :)
Thanks for reading lovelies <3