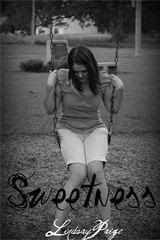 Sweetness (Bold as Love #1) by Lindsay Paige
Publisher: CreateSpace
Release Date: November 2011
Genre: YA Contemporary Romance
Source: Author
Emily wished she was invisible. But after moving to a new town with her dad, a charming boy makes it impossible for her to disappear. Despite her feelings of unworthiness, Emily soon finds herself drawn to the safety of Jake's world.

Good looking and the star of the hockey team, Jake has a lot going for him. What most people don't see is the difficult life he has at home. When quiet Emily steals his heart, Jake vows to help her discover she is worthy of love.

Just when the two of them realize the sweetness of their relationship, they are put to the test. Only together can they overcome their haunted pasts to fight for a future together.
My Review:
Sweetness has to be one of those most authentic Young Adult books that I have read in quite a while. I describe it as authentic because the story in this book doesn't even feel like fiction at all, it feels, well, very real. And ironically that is not the easiest thing to find in the Young Adult Realistic/Contemporary genre, believe it or not. Sometimes there are situations that are described in some Contemporary YA books that make you go, "Wait, what? That would never happen in real life, I think the author is pushing it here" but because the story is so amazing you give it the benefit of the doubt, although in the back of your mind you are still retaining that small doubtful feeling that awakened in you while you where reading the story. Well let me tell that with this book, that never happened once and boy was I impressed with that. The writing style used in this book is very natural and is a perfect example that "less is more" because though the book has a lot of depth to it and is quite complex, the writing style always remains approachable, and the dialogue feels like it emulates what real conversations between people sound like. It was beyond refreshing and I adored every minute of it.
When you approach Sweetness, it's easy to assume by the title and length of this book, that it is a very light and even super fun read, but it is not. It is a quick read and it does have its fun and sweet moments but the topics covered in this book are not light. In this book we get to read about verbal abuse, parental abandonment, drug and alcohol abuse, intricate family dynamics, loneliness and alienation. And yes these topics are quite heavy but they never make the book feel like it's depressing or overwhelming, quite the contrary, they add a realness to the story and help deliver the quintessential message of the book, that is: to heal from our wounds, we must learn to accept and love others and ourselves.
The main and secondary characters in this book are just lovely. They are well developed and so darling. I have to say that I loved that the author makes the family members of the protagonists, Emily and Jake, a very important part of the book. That is not something that is common in Young Adult books. Usually the main focus is on the male and female leads story and the family members play a very small part in the book but not in Sweetness. In this book, family is front and center in the conflicts that affect the main leads in Sweetness and it made it that much more realistic because lets face it, family plays a center role in every human beings life. Even when they are absent, their absence leaves a mark. I just thought it was really great to have Emily's dad play a big part in her life and read about Jake's little brother Drake and to get a look into the background of these characters family life.
Now, on Emily and Jake. Our protagonists. There are no words. They are just so adorable and well developed and real. Emily in this book is struggling with the trauma of being verbally abused by her mother. And I think the author of this book captured perfectly, the severe ramifications of verbal abuse. There is a popular saying out there that says that, "sticks and stones might break my bones but words will never hurt me" - well let me tell you something, the author of this book, turns that phrase on its head and sets the record straight. Words can hurt a person. They can scar them for life and leave them in despair, struggling to understand what their self worth is and whether the mean things someone said to them are true or not. And in Emily's complete decision to alienate and isolate herself from everyone we can see the true affects that words can have on someone. Jake on the other hand, is one of those people who on the outside they look like they have it all. He is a star athlete, handsome and has popularity but in his real life, when you really get to read about whats going in his life, you see that he is actually struggling with a lot of family drama, too. But when the main characters in this book meet we soon get to follow them on their journey to trust one another, befriend one another and eventually fall in love with one another and boy was it beautiful. Why? because Emily and Jake have a refined sensibility. They are caring, smart, selfless young people who just happen to be caught up on a lot of family turmoil causing them to be a bit lost, a bit confused and sad. Thankfully they find each other and their story blossoms into something quite special and charming, I would say.
My only problem with this book is that it definitely needs a bit more of editing but nothing too major. Just a quick correction of a few spelling errors and grammar mistakes. Besides that, this book is just amazing. I am so impressed with Lindsay Paige as I believe that she is in her last year of high school. She is definitely a Young Adult author to watch out for and I can't wait to read the rest of the books in this series. And this is a quick read as the book is 108 pages so if you are in look for a great Contemporary Young Adult Romance novel, you have a winner in Sweetness.
My Rating: 4.5/5